This page contains various 'bits and pieces' related to the Talog area, with no particular theme, and in no particular order.
1982 RAF Hunter Plane Crash
Yvonne Herbert remembers a plane crash near Talog which was quite exciting at the time! Apparently, there were two men in the plane: – Written off 05/08/1982: Suffered an engine failure due to compressor failure and crashed 4.5 miles north west of Carmarthen. Both crew – G.Captain. P. D. Oulten, and Fight Lieutenant M. B. Stoner – ejected safely.
The plane landed in a field. There is a write-up in the book "Carmarthenshire Air Crashes", Bryngold Books, ISBN 978-1-905900-37-4, available to borrow from Carmarthen Library.
With thanks to Gareth and Sylvia Davies for the photographs.
A 1953 Carnival celebrating the coronation of Queen Elizabeth II
1890s: The Perils of being Baptised in a River

This is an extract from "How I became a Blacksmith", some notes written by John Davies, who was born in Talog in 1891. As a child he often frequented the Smithy in Talog where he became interested in the work of a blacksmith. His family moved to Llangain when he was seven years old. As an adult he became a multi-award-winning blacksmith in Carmarthen.
These notes recall an incident involving "Dafi Gof", the Talog blacksmith who died in 1905.
"He was a stout and short man and kind to children, but he was not a full member of the local chapel until well on in years. I can remember him being baptised in the river which runs through the village, and great commotion was caused in the village that day. They used to baptise in a pool, called "pwll y bedydd1" to this day. But through some misfortune the minister and Dafi Gof got entangled in each other. He pulled the minister with him into the water to the great fright of us children, and we all ran back to the village shouting "Mae Dafi gof wedi boddi2".
1 (the baptism pool)
2 (Dafi Blacksmith has drowned)
Now that can't happen again, as they have diverted a stream of water to a brick built Baptistry in the field close by."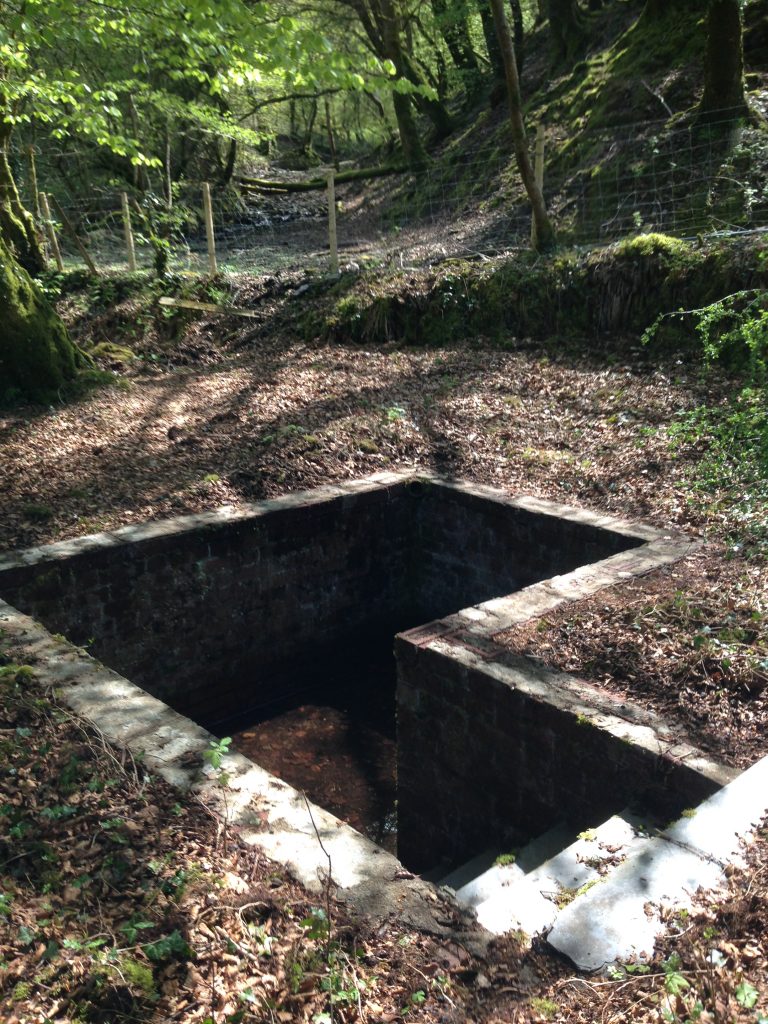 With thanks Jo Kerslake, a grand daughter of John Davies, for supplying the information
You can read more about the life of John Davies in "So Where did the Anvil first ring for John Davies, Champion Farrier of Great Britain five times?", and there is some more information about the baptistry in "Blessing the Baptistry"
1887 Wedding
An amusing article from the Carmarthen Weekly Reporter, Friday 16 September 1887
A SINGULAR MARRIAGE. Every one was astir early last Tuesday morning in Talog, for there was to be a marriage which promised more merriment than serious rejoicing. Two garlands were put up in the village – one at J. Bowen's house, the other at the Castle Inn. Everything of a bright colour, or of a comical shape, was put in the garlands. The bride was Rebecca Davies, of Pantycoch, widow, 52 years, with three children, and:the bridegroom was David James, Penbank, widower, aged 74, with seven children ; both of Abernant. By eight a.m. men in the village were firing off guns, and there was likewise shot firing, which continued till the bride came to Talog, when a volley was discharged in her honour. The blushing bride was visibly affected, especially when she found that the bridegroom had not come. The firing party by this time were thirsty, so the bride treated them to liquors, after which they renewed their firing with vigour. After the bride had been kept in suspense for half an-hour, the blooming bridegroom appeared, in the company of Mr Howells, Lan, and Mr Hughes, Ffynonwen, who brought their traps to carry the happy pair to Abernant Church. More liquor then went round, and the volleys followed quickly. The bridegroom was as active as a young boy, and the bride as modest and as timid as a maiden. When the party left Talog, there was a shower of old shoes and rice, a roar of laughter, and a final volley. People considered it a comical scene, for the bridegroom is old, and so they determined to make his marriage as public as possible. Long life to the happy pair, for though not possessed of youth, we trust he is full of wisdom, so that he can guide his wife aright. Love rules the world.– Com