This page is under development and is currently (mainly) in English only
When someone was born in one century and died in the next, they appear in the century relevant to the piece of information.
2000s
Professor Henry Harford Williams, born in Meidrim in 1931, became an eminent scientist, an expert in fish parasitology. He was buried at Bethania Chapel in 2018, where his headstone notes that he was the Founding Director of the Open University in Wales.
1900s
Mr Turner (still living) supplied much of the information for "Talog Past". He married Mair Phillips in 1956 and they moved in with his mother-in-law in Talog. Mair's father, Gomer Phillips, was born in Sarnau, Talog. Her grandfather was a cooper and ran the Castle Inn pub. Gomer and at least one brother were teetotallers.
The father of Professor Williams was Albert Owen Williams. Although not born in Talog, he was adopted by the Davies family of Tessant who provided his training as a tailor. In the First World War he was the victim of a mustard gas attack, and while recovering in a field hospital, he contracted Spanish flu. Eventually he returned to West Wales and set up a tailoring shop in in a shed in Meidrim.
Thomas Richard Thomas shopkeeper, Talog Stores. In 1914 he lent the Eisteddfod Committee £40 to purchase and store a marquee(approximately equivalent to £11,614.73 in 2021). There were 36 signatories to the agreement – click here to see the names and addresses. In 1920 TR Thomas organised transport from Cynwyl Elfed station of the ex-army hut which became YMCA Hall in Talog.
Mair Davies lived as a child at Pantdwrgwns, Talog. Baptist missionary in India from 1927 to 1967
Gwilym Wilkins: Chapel Deacon, and conductor of the Bethania Chapel choir
Gwynfor Phillips: Chapel Deacon and Secretary
1800s
Talog shop was established in 1836, and in 1851 was run by Thomas Thomas. Several of the Thomas family died in an epidemic in 1854, and the family was nearly wiped out.
The Rebecca Riots were a series of protests between 1839 and 1843 by local farmers and workers in response to perceived unfair taxation. Three men from Talog: Thomas Thomas; John Harries, of Talog Mill; and Samuel Brown a farmer from Brynmeini Farm; refused to pay the tolls and were fined £2 each with 8s 6d costs (about £2.42p), at a time when a farm worker earned £2.10s.0d (£2.50p) a year, a hefty penalty!
In 1839 Jacob Jones of Rhydgarregddu agreed to rent land for Bethania Chapel to be built. The Indenture lists 22 signatories.
1700s
John Howell, 1781 – 1819. Surgeon in East India Company
Jeni Molyneux, who lives in England, discovered she has many ancestors from Abernant, Trelech a'r Bettws, and Talog. It was the uncovering of Howell and Thomas family papers and letters, firstly at Pembrokeshire Records Office, then at the National Library of Wales, and then at Northamptonshire Records Office, that has made this primary research possible. The papers were all collected by the Rev. Thomas Thomas, himself an amateur antiquarian, as well as a clergyman. In 2019 she gave a talk in St Lucia's Church, Abernant, about her ancestor, John Howell. He was born in 1781 at Rhydygarregddu, Talog, and went to India as a surgeon. This transcript of her interesting talk also mentions other relatives from the area. It is reproduced here with kind permission from Jeni Molyneux who retains the copyright of this article.
John Howell 5th November 1781- 28th June 1819
Surgeon in the East India Company -7th Regiment Native Infantry
from Rhydd y Garreg Ddu, Talog, to Kissengunge, India.
On 30th June 2019 a memorial service was held at St Lucia's Church, Abernant to remember the life of this young Welsh boy from Talog, Carmarthenshire.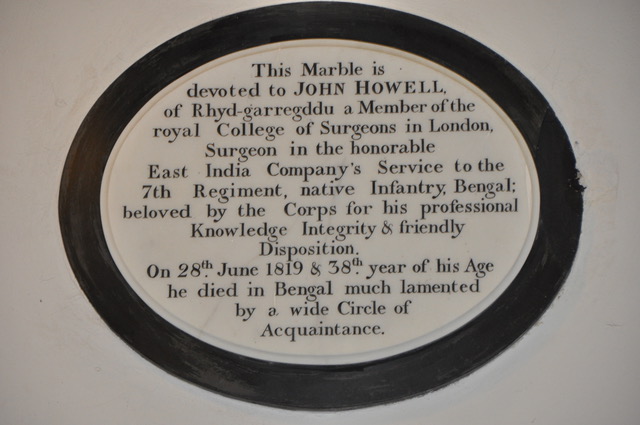 John Howell (his father Thomas Howell tells us in a letter written in 1785 to his brother in law) that John, his youngest son was born at 4pm on the afternoon of 5th November 1781 at the farm Rhydd y garreg ddu. John's eldest brother was Howell Howell, five years older, and born in 1776 in Abernant. Howell Howell farmed nearby at Cwmgest until his death in 1840. It was this older brother Howell Howell who worded, and arranged for the above memorial in St. Lucia's church to be erected in his brother's memory.

John, as the youngest brother with no expected inheritance, had to make another way in life. He seems to have been supported financially and most probably to have been educated by his 'Anwyl Ewythr' the Rev. Thomas Thomas who was a curate at Isham and Farndon in Leicestershire. At the turn of the century in 1800 John Howell is 19 years old and he is already a Member of the Royal College of Surgeons. Four years later, in 1804 and aged 23 he achieves his MD and becomes a surgeon in London.
The following year, the Rev. Thomas Thomas receives a letter dated 6th February 1805 from John Howell's parents Rosamond and Thomas Howell asking his advice about 'how to raise £150 for India equipment'. However, luck prevails and a few months later, in 1805, John Howell is appointed Assistant Surgeon for Bengal, India, in the East India Company. John Howell sailed to Calcutta on the ship Britannia as 3rd mate arriving in Bengal in December 1805 to take up his appointment.

On the 3rd of March 1806 John Howell entered the Indian Medical Service as an Assistant Surgeon in Benares, India. (Present day Varanasi). No more is heard of John Howell's life in India for the next 9 years…
Then in May 1814, aged 33 John Howell writes to his uncle the Rev. Thomas Thomas about 'having had a bad horse-riding accident and his consequent poor health that he is suffering'
1814 John Howell took a furlough to travel home because of certified sickness.
16th June 1814 John Howell, surgeon, left Calcutta on board the ship Matilda to return home to Portsmouth. There were two employees of the East India Company coming home from Calcutta: Mr John Howell, and Captain S. Lutwige of the 11th native infantry who was also on sick leave.
16th December 1814 In a letter John Howell on arrival from India to Portsmouth is writing to his uncle the Rev. Thomas Thomas at Farndon describing a very painful voyage at sea. John Howell is clearly not well.
8th June 1815 Rev. Thomas Thomas writes to his niece Phoebe's husband the Rev. Thomas Skeel at Newhouse, Pembrokeshire asking him to come and collect john Howell from "Mr Talbot's madhouse" in Bethnal Green.

"The fall from his horse in Asia probably is the primary cause of his derangement having affected his spine and brain… his removal to his native air is possibly a salutary means of recovery. There is more to be said about John Howell's affairs than I can explain on paper. Mr Talbot is to have £1.11.6 pence per week, besides some extra expenses each week. avour me with a reply as soon as possible. In much trouble of mind"

In that summer of 1815 John Howell is rescued from Bethnal Green, by his cousin's husband the Rev Thomas Skeel, and taken to Millbrook House, Carmarthen, to recover his sanity.
In 1817 John Howell returned to duty as Assistant Surgeon with the East India Company in Bengal with the 7th regiment of native infantry.
In 1818 John Howell was nominated a Surgeon by Sir H. Inglis. Bart.
John Howell died on 28th June 1819 aged 38 at Kissengunge, Maharashtra, India. The memorial was requested by him to be placed in St Lucia's Church, Abernant.
John Harries of Talog Mill
Jeni Molyneux also provided information about John Harries (1793-1879) who was involved in the Rebecca Riots.
John Harries was born in nearby Newchurch on 3rd March 1793 to Solomon Harries (1762 – 1844) and his wife Elizabeth John (1755 – 1835). He married Mary James on the 18th May 1820 when he was aged 27. On the 1841 census they were living at Sarne Mill, Talog. Mary was aged 50, John 45, and their two children, Henry 12, and Elizabeth 14
Their daughter Anne was married to Jacob Jones, and they lived at the farm Rhydd-y-garreg-ddu in Talog.
Their daughter Sophia was married to William Davies, and was living at Posty Uchaf, the farmstead where her mother, Mary, was born.
Their daughter Elizabeth married John Philipps of Esgerfa
John Harries' wife, Mary, predeceased him on 22 February 1842. John Harries himself died from 'cancer of the lip' aged 86 on the 16th August 1879 at Cilcrug in Abernant. Margaret Davies, his granddaughter, was present at his death.
Probate was granted to David Davies, cooper of Talog, and John Davies. In his will 1st April 1878 John Harries leaves £150 to his eldest son Henry Harries, who was living in California, and money to his other children.
Jeni provided this interesting photograph of some descendants of John Harries who lived in America.