100 years of Talog Hall
Introduction
In August 2019, Mr Eddie Turner, who has lived in the village since 1956, talked to local residents, Wendy and Heather, to record some of his recollections of Talog Hall, and some other information he has gleaned about the history of Talog. Also, to mark the centenary of Talog Hall various people have provided photographs, some of which appear here.
Special thanks to David Jones for some of the photographs of Talog village.
The origins of Talog Hall
In 1914 the "Committee of the Talog and District Eisteddfod" signed a "Memorandum of Agreement" with the shop-keeper, Thomas R Thomas, whereby he lent the Committee £40 to purchase a marquee for their use, and agreed to store the same until paid for.
Agreement and Signatories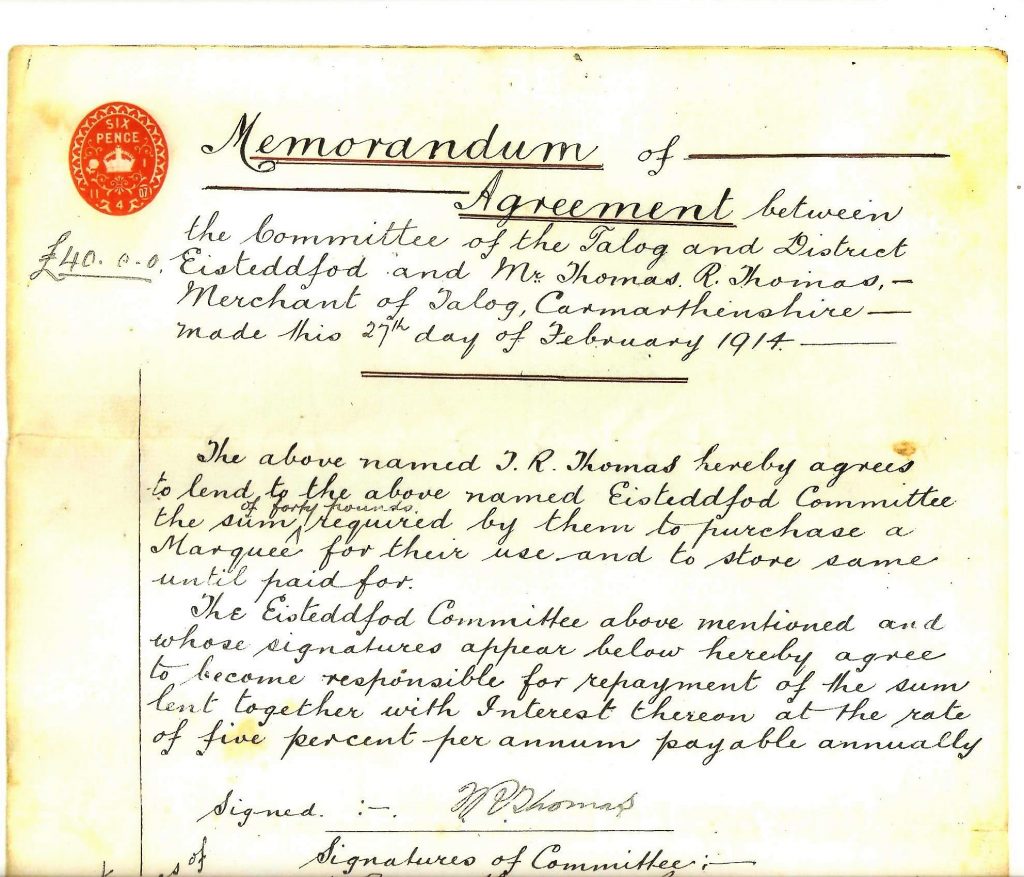 After World War 1
After World War 1 Lloyd George's government decided to demolish most of the army camps and give huts away. John Daniels worked in Cardiff and helped to acquire the Hall, along with T R Thomas the shopkeeper.
Talog Hall was originally an army hut, like those used by men on National Service as dormitories, probably with 10 beds in a row. The Young Men's Christian Association (YMCA) distributed the huts to mining communities and villages on condition a plot was found, and money to pay for transport and erection. The money to pay was collected by chapels to be paid back after the hall made a profit. However, Bethania Chapel agreed to give the money, instead of asking for it back, in return for use of the Hall free of charge. Mr Turner believes that T.R Thomas organised the transport of the hall from Cynwyl Elfed railway station – using a traction engine and horse and cart.
Cilwendeg Farm gave land in the village to build the hall. They also gave a water supply to the village. The villagers laid the pipes for the water. Mr Turner's mother-in-law paid someone for a day's work for her share of the work. The maintenance was taken over by the Carmarthenshire Council.
Talog Hall Opening Concert
The opening ceremony involved Sir John Daniels, MA, Cardiff, who also gave a set of books to the hall to start a library. The chapel used the hall for drama on Boxing Nights, an Eisteddfod on New Year's Night, and Christmas parties for the children, as well as other chapel events.
Talog Hall
The ex-army hut was opened on 22 September 1920, and now, as Talog Community Hall is 100 years old.
The YMCA wanted one shilling a year from the hall to maintain ownership. This agreement held until 1977 when Brinley Jones sold Talog Shop to Handel Griffiths.
Inside the hall in those days there was a kitchen, with books on a shelf. In 1962 electricity came to Talog. The lighting had previously been provided from the shop via a generator to the hall. There was a stove in the hall, powered by coal, in the centre of the hall.
Mr Turner said of those times: "Brinley the Shop asked me if I would go with him and Jack Jones, who worked in the shop, around villages which had a hall to see what heating they had. "We went to several villages, started with Meidrim, can't remember the names of all of them, but Aber Cych was one, and we ended up in Llanpumsaint." Some had tubular heating, some had overhead, one had under-floor heating. The team decided on overhead heating.
Brinley decided to ask the YMCA if they could provide a grant for the heating, and a man came down Talog where a delegation met him. But there was no grant, and the YMCA representative also refused to sell the hall. However, in the last few years the hall has been transferred to a community organisation. The car park was bought from Brookside, probably about 20 years ago.
Aerial photos showing Talog Hall (and shop)
Talog Stores
Talog shop was established in 1836 and in 1851 was run by Thomas Thomas. Several of the Thomas family died in an epidemic in 1854, and the family was nearly wiped out. Thomas Thomas died aged 41; his wife, Margaret, aged 39; a daughter, Mary was 17; and a son, David was 15. Two other children died young in other years; one at only 1 day old, and the other at 7 weeks.
Mr Turner said "Talog Shop was a thriving business. There was a warehouse on Carmarthen Quay where ships used to come into Carmarthen up the river. A railway to Carmarthen was built it 1852 and they had to put in a bridge that opened to allow ships to come in. You can see that bridge now from B&Q. The Thomas family owned or rented the warehouse. Goods came in by boat and were stored there, then brought to Talog." This involved using one of the tollgates in Carmarthen which featured in the Rebecca Riots.
In the 1900s Thomas Richard Thomas inherited the shop, and his younger brother, Walter Thomas went to London to work as a shop worker. Their sister lived in Troed y Rhiw, Talog. Walter Thomas returned from working in London to help run the shop, and they called it Thomas Brothers.
Mr Turner has some receipts showing that in 1913, as T.R. Thomas, it was a "Draper, Grocer, Ironmonger, Seed & Manure Merchant", with "Funerals Completely Furnished". In 1932 the heading was for "Thomas Bros. Grocers, Drapers and General Merchants". Mr Turner said "The shop sold all sorts of items, including fertilisers, feeding stuff – they reckoned you could get anything in Talog. They had their own cow and a field, so they had fresh milk. If you wanted a suit, they would measure you, then you chose the material from a book, the style you wanted, how many pockets you wanted, single breasted or double breasted, and you could have it within a week." This practice had ended by the time Mr Turner moved to the village.
The Early Days
Some early receipts
Thomas Bros with lorries
Talog Stores and Post Office
21st Century – HDG Farm Supplies
Bethania Chapel
When providing information about Bethania Chapel, Mr Turner referred to the booklet written by his brother-in-law, Gwynfor Phillips, published in 1997.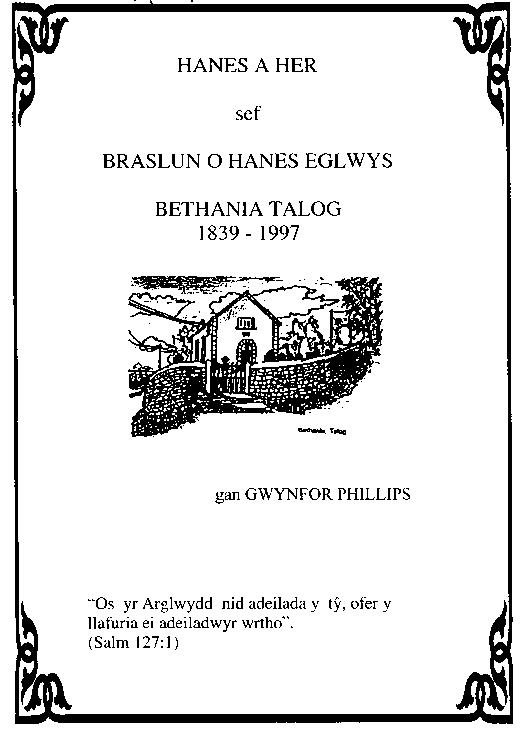 Some additional information was gained through discussions with local people including Lily Thomas, and through online research.
Bethania Chapel was built in 1839 (the year the Rebecca Riots started). The ground was rented from Rhydygarregddu at 6 shillings (30p) per year.
On the 150th anniversary in 1989, the Jones family presented the leasehold to the Chapel for free. There had been a little cottage, Bryntirion, where the vestry now is. It was demolished, and stables were built because people came from a distance to the chapel, but in time the vestry was built in its place.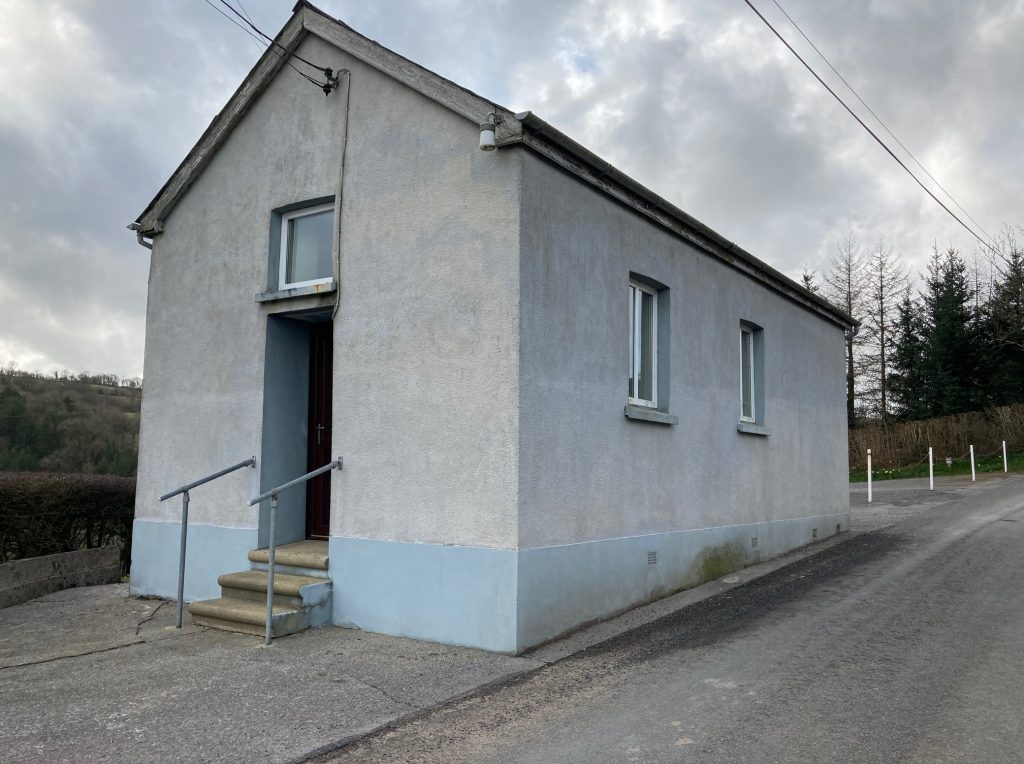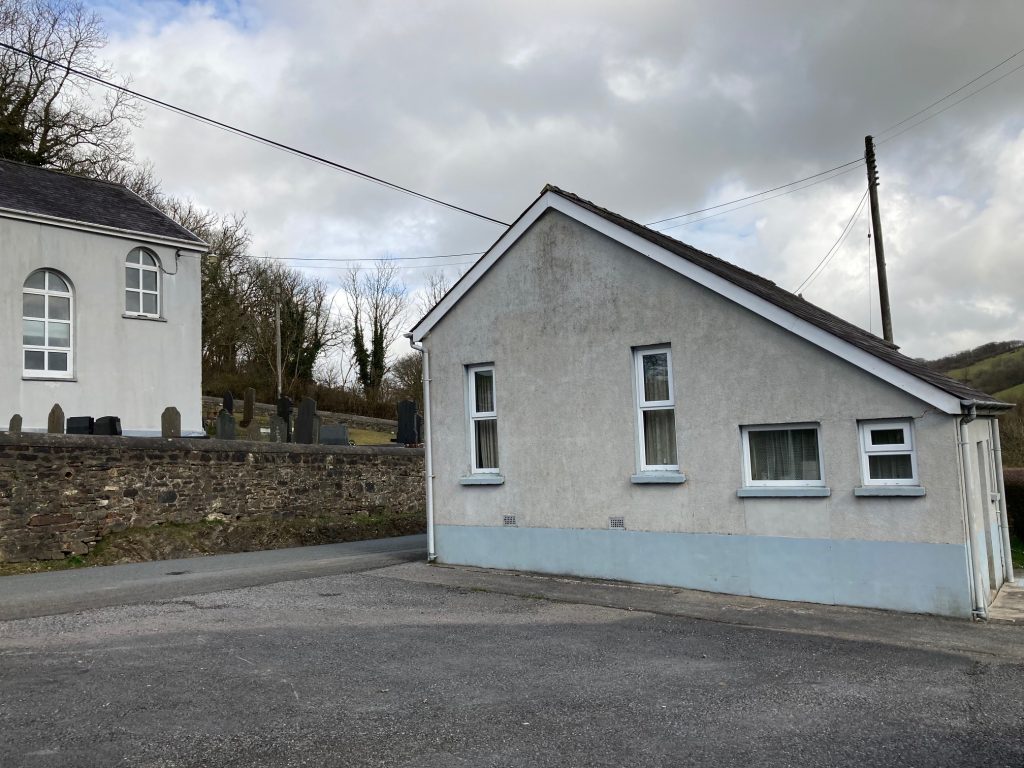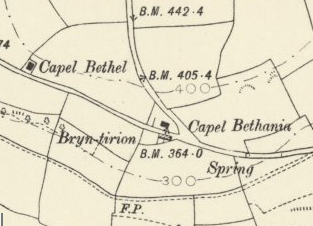 Following a rift in Bethania, Bethel Chapel, was built along the road, towards Penybont. The disagreement was sorted out and it was never used as a chapel. It became a house, Llygaid yr Haul, and was originally split into two flats. Harry the Blacksmith lived there.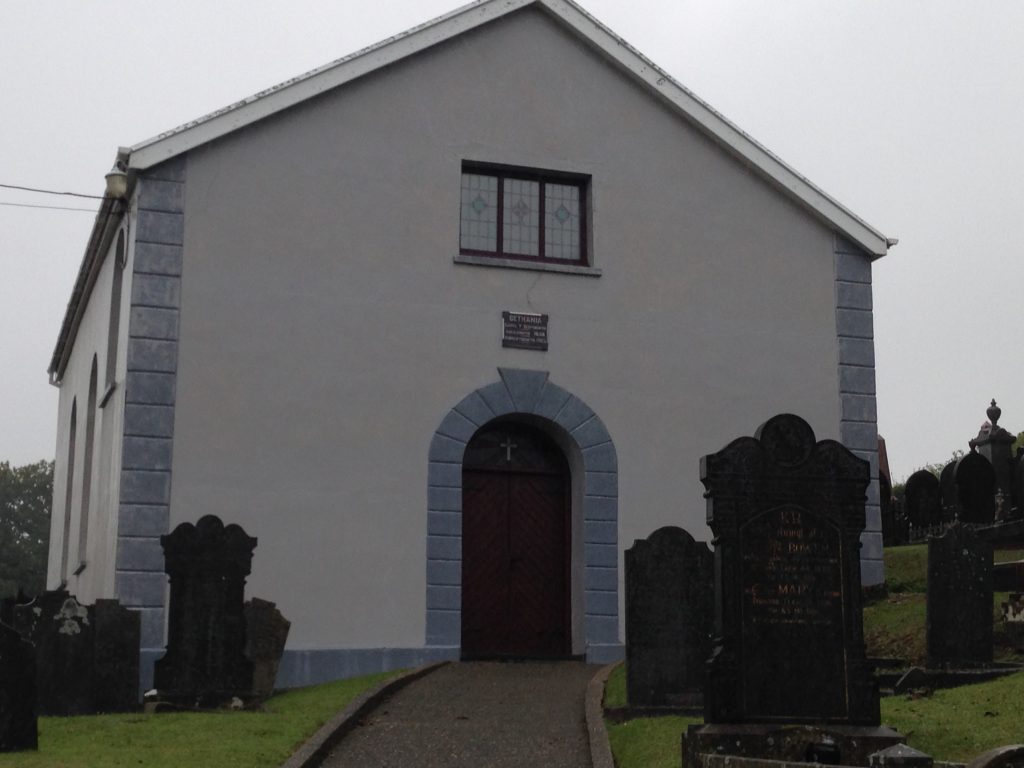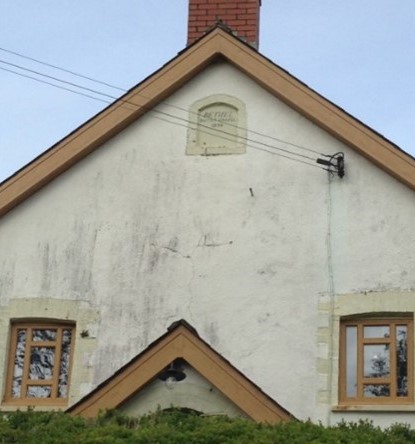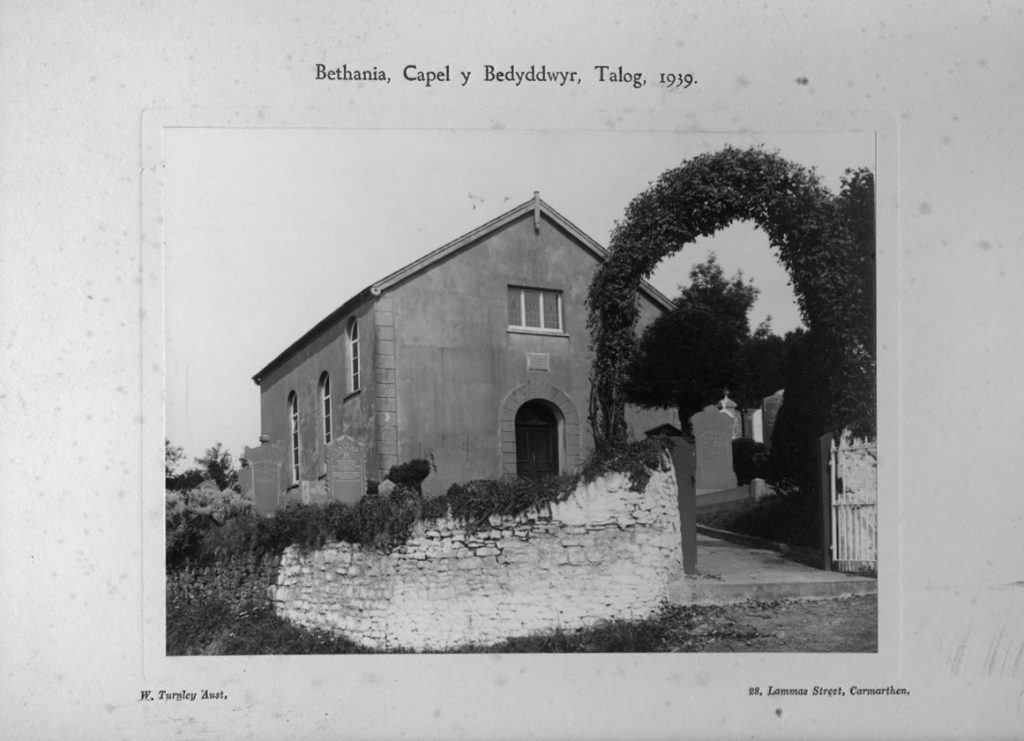 In 1927 the chapel was refurbished with parquet flooring, new seats, a pulpit, windows, and doors.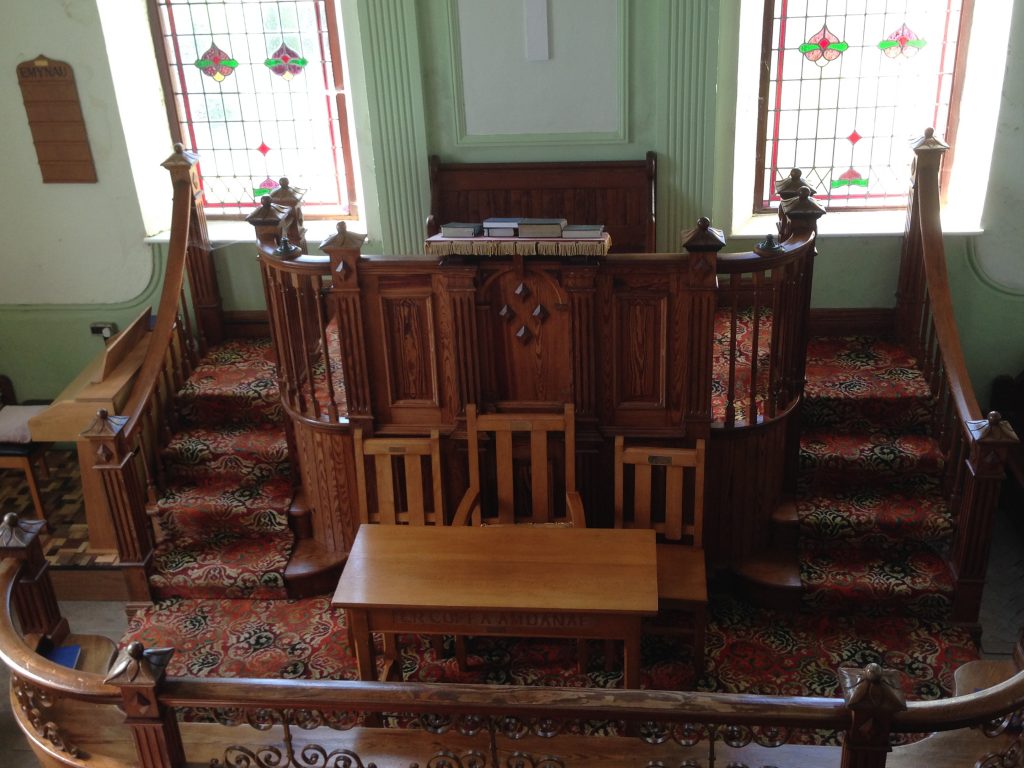 Gwilym Wilkins (Danybont, Talog) took over from Harry as blacksmith. He was the conductor of the Bethania Chapel choir, and there is a plaque for him the chapel. As Bethania had no organ before electricity came to the village, Gwilym used to start the singing by striking a pitchfork, and humming the note produced. Weddings were not held in the Chapel until 1989. Before then, local weddings took place at Foelcwan Chapel (sister chapel to Bethania), or at the Tabernacle Chapel in Carmarthen.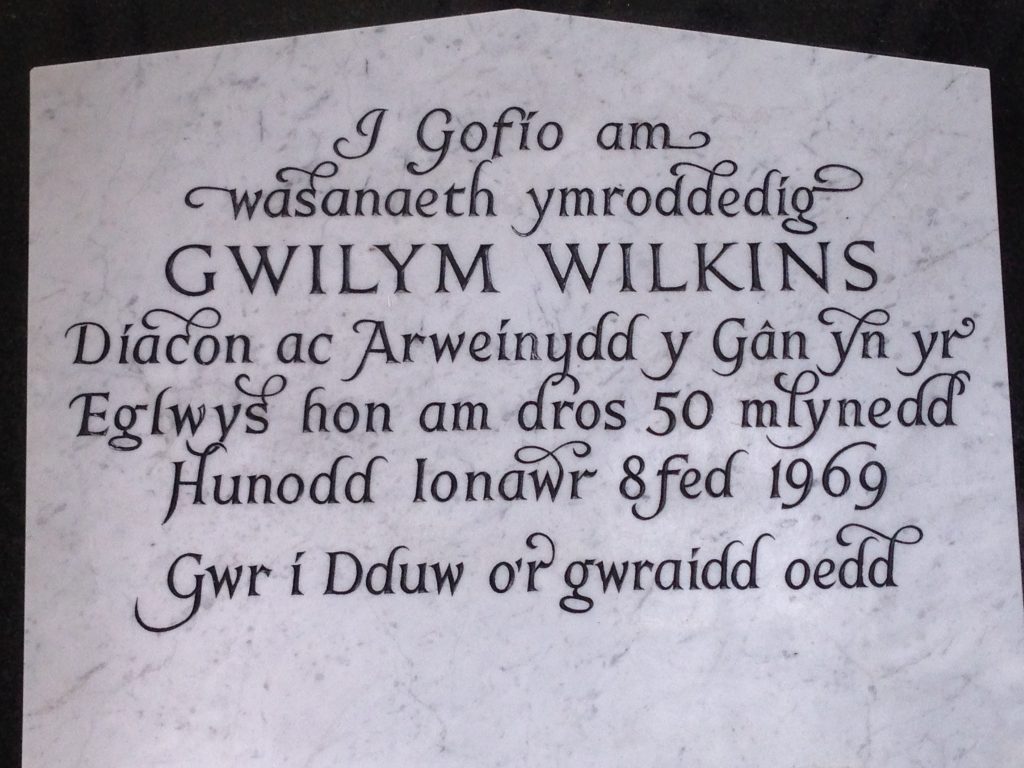 Blessing the Baptistry
People were baptised before joining Bethania Chapel. Originally this would have been in the river; then in the baptismal chamber near Talog Hall, on land given by Penrallt; and later at the Tabernacle Chapel in Carmarthen. In 2018 a "Blessing the Baptistry" took place, led by the Minister, Revd. Peter Cutts, and attended by some of those who had been baptised there.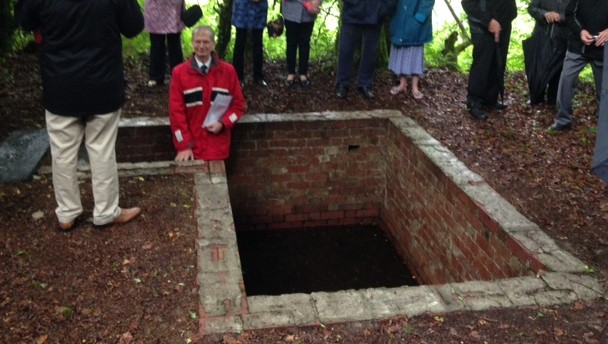 Mair Davies, Baptist Missionary
Mr Turner referred to Mair Davies. When she left school in Cwmogor, aged 13, she went to live with her aunt and uncle at Pantdwrgns, Talog, living there for 9 years. However, at the funeral of her father she felt she had to help people overseas, and offered herself to the Baptist Missionary Service.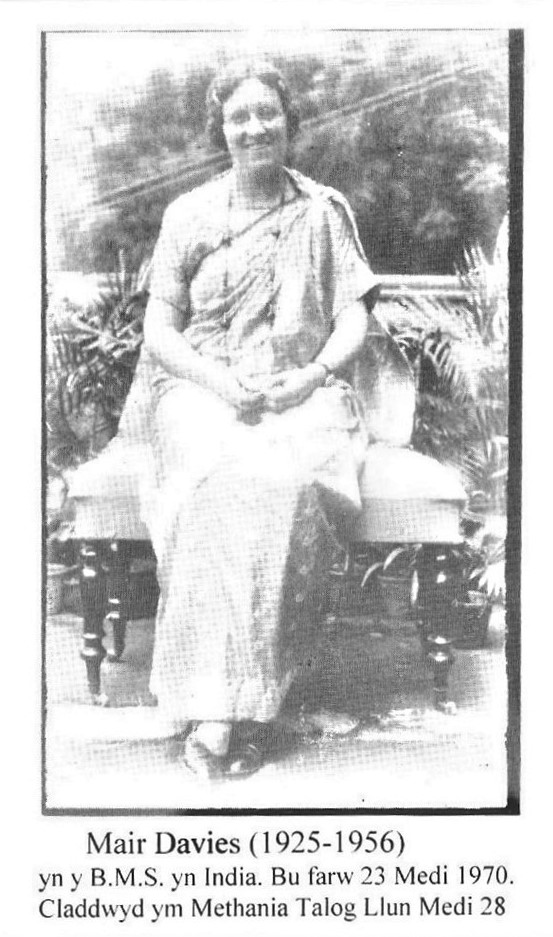 She undertook training in Rhondda, Carmarthen, and London. Mair served as a Baptist missionary in India from 1927 to 1967. She was described as being like Mother Theresa, helping the weak and poorest. Many people of Talog remember her visiting wearing clothes from India, with her adopted daughter, Shontu. She is buried at Bethania Chapel.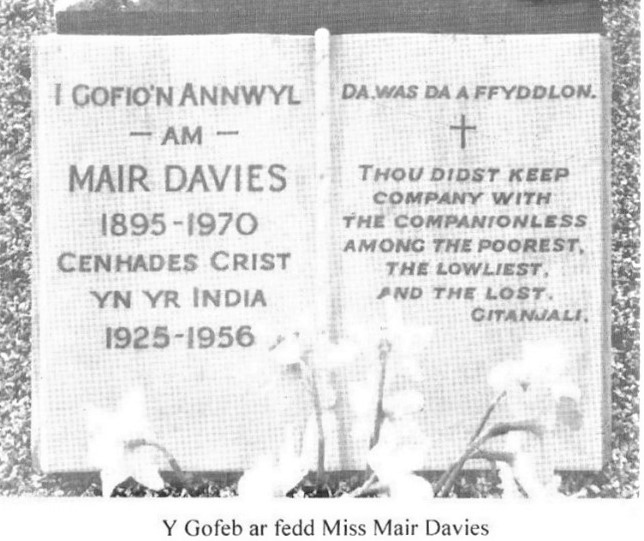 A Vision and a Venture
"A Vision and a Venture"
These are the English pages from the booklet written by Gwynfor Phillips. This interesting summary of some of the history of Talog highlights the significance of Thomas Thomas who founded the shop and was instrumental in the founding of Bethania Chapel. He and his family died in 1854 after he contracted typhus on a trip to the Lancashire Mills.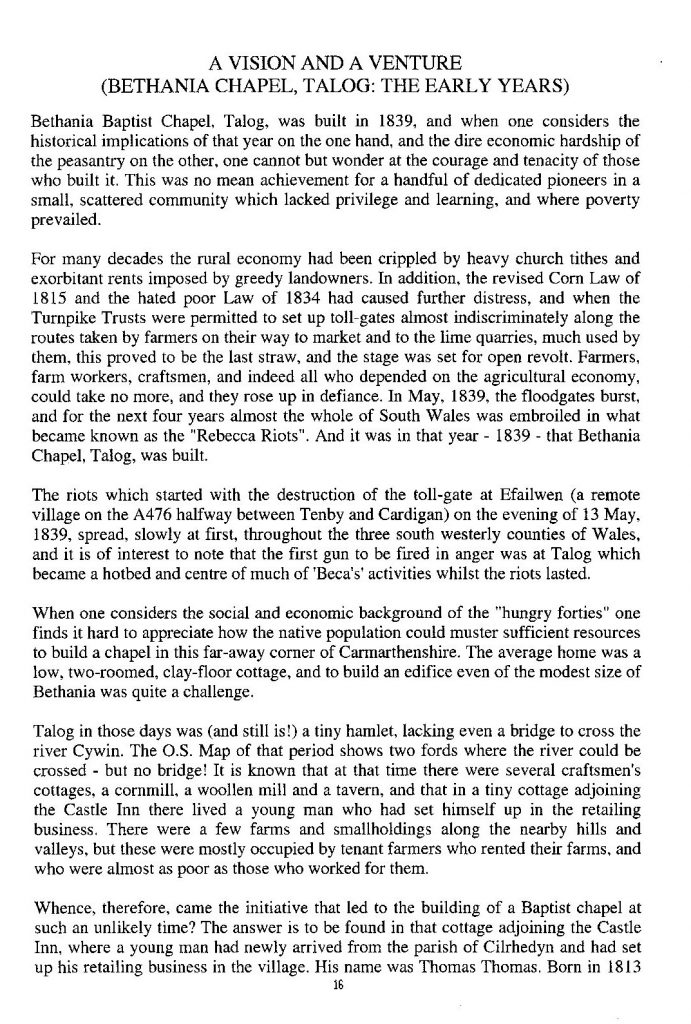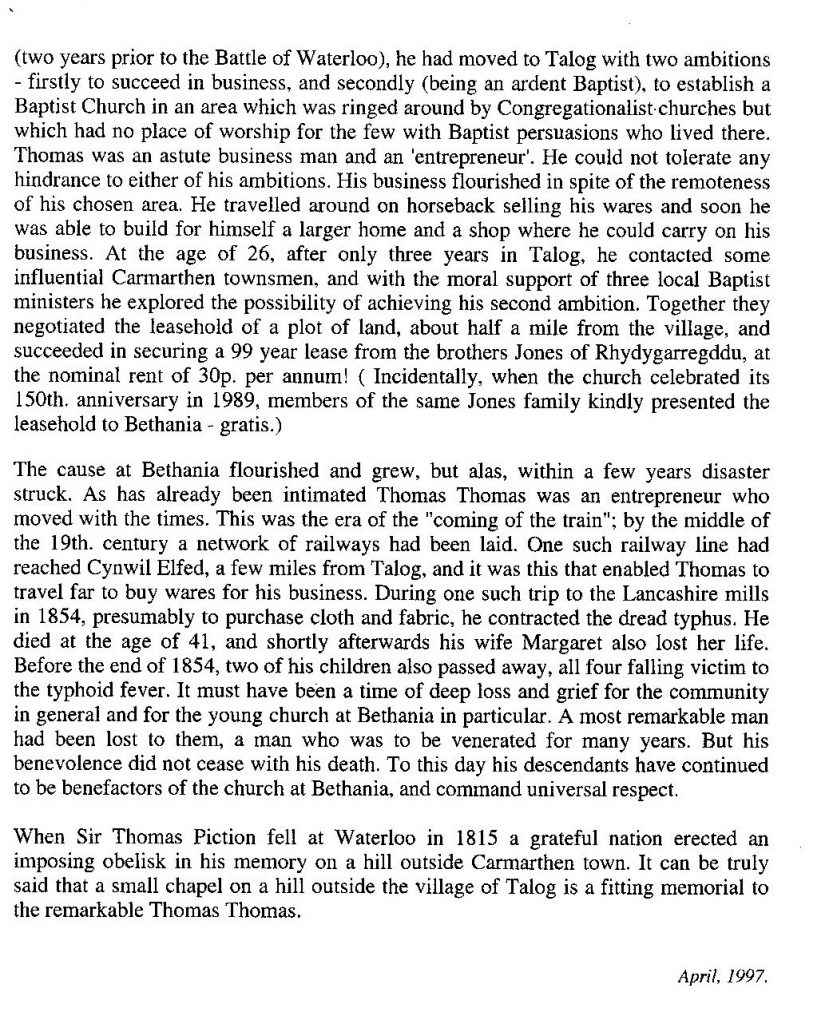 Bethania Chapel Graveyard and Memorial Plaques

A few of the gravestones and memorial plaques to be found at Bethania Chapel.

Thomas Thomas, 1854 and his family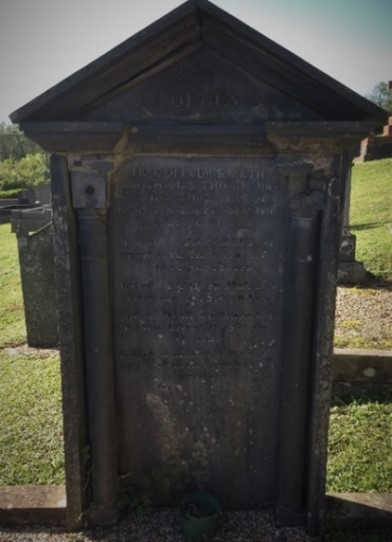 Colofn
Er coffadwriaeth am Thomas Thomas masnachwr Talog o'r Plwyf hwn yr hwn a fu farw Ion
19 1854 yn 41 oed
Hefyd Margaret ei wraig a fu farw Ion 27 1854 yn 39 oed
Hefyd David eu mab a fu farw Ion 5 1854 yn 15 oed
Hefyd Mary eu mherch a
fu farw Chwef 10 1854 yn 17 oed

Edrych ar orchwyl DUW canys
pwy a all unioni y peth a gam modd efe
Two of the memorials to the Jones family, Rhydygarregddu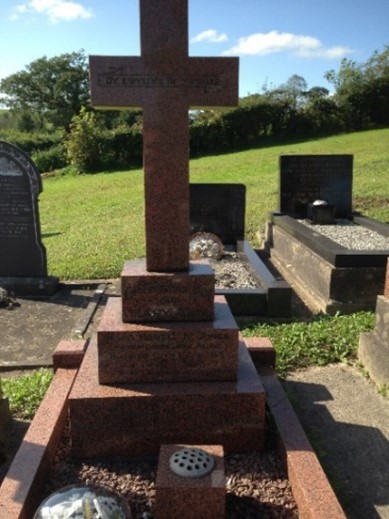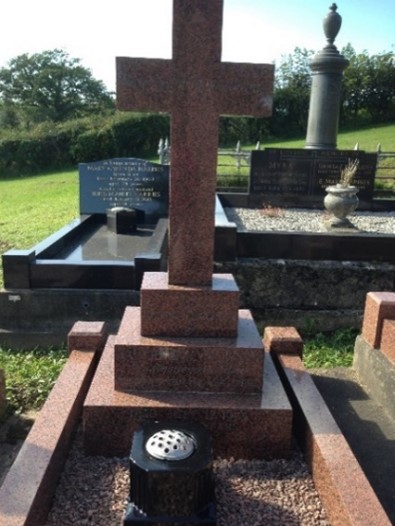 Plaques in the Chapel to Gwilim Wilkins, Chapel Deacon, and conductor of the Bethania Chapel choir. Also Gwynfor Phillips, Deacon and Chapel Secretary.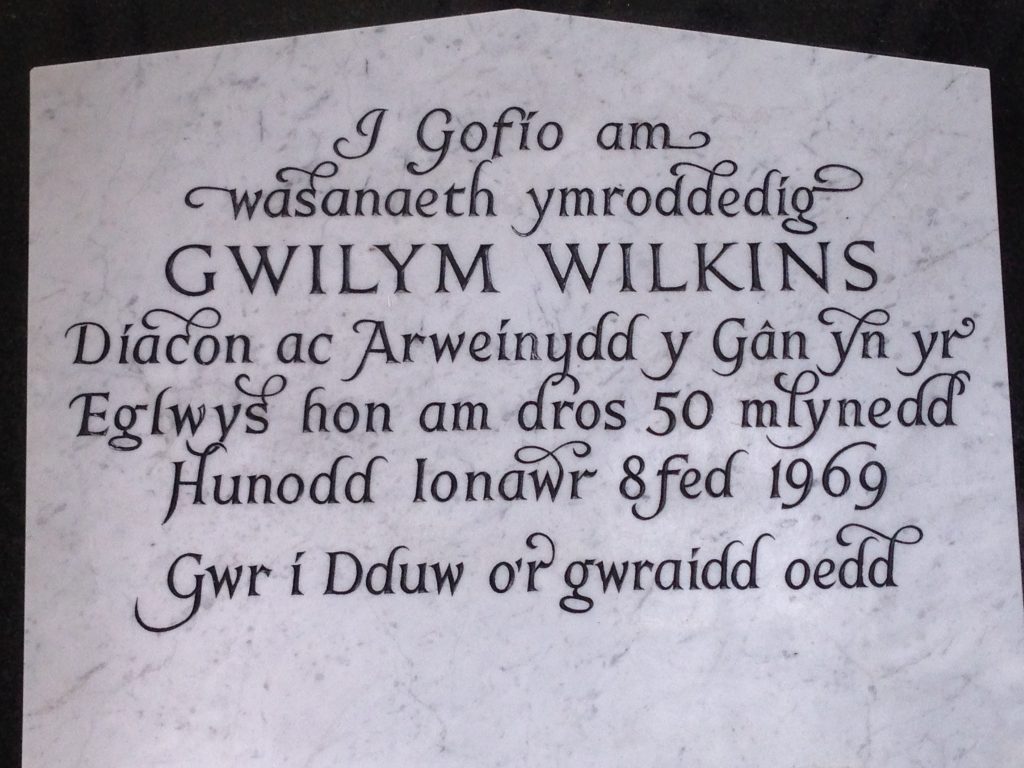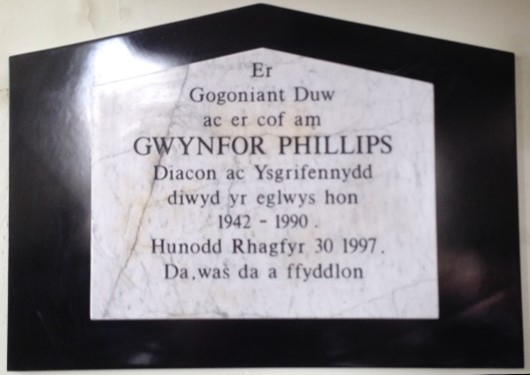 Memorial to Professor Henry Harford Williams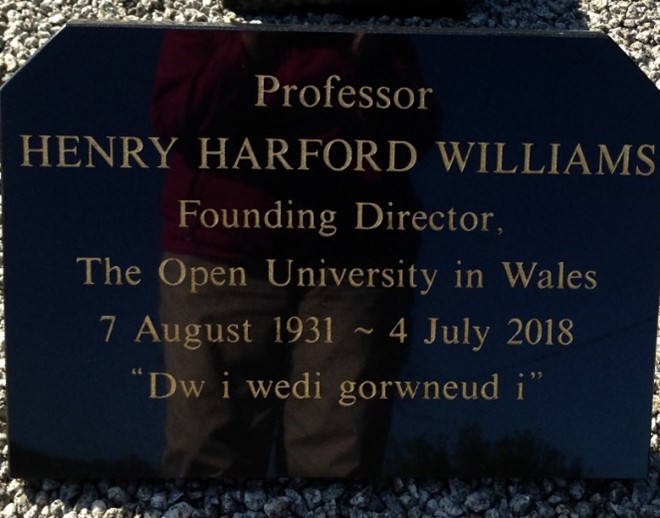 Raised in Meidrim, he studied at Aberystwyth University and became an eminent scientist, an expert in fish parasitology. His family said "He was hard working man, with numerous interests, and didn't know when he should take a break from work. At the end of a hard day's work, he'd frequently say that he'd overdone it:
"Dw i wedi gorwneud i""
Video about the sad story of the young Emily Phillips who lived at Castle Inn, and court cases against Thomas Williams of Fachddu for child maintenance. Emily died in 1911, aged 25. With thanks to "Bethena" for permission to use this interesting video.
Penrhiwlas School
The Great War / World War 1 (and one from WW2)
Taken from https://ww1.wales/post-ww2-war-memorials
William Jones, Private, King's Shropshire Light Infantry. William resided at Cwmcarn, Talog. He served with the 2nd Battalion, King's Shropshire Light Infantry, which had served during the war attached to 80 Brigade, 27th Division. After the Armistice, the battalion was sent to Fermoy, in Southern Ireland. On Sunday 7 September 1919, William was one of a group of soldiers who were heading to attend a Church Service, when several cars pulled up, and the soldiers were fired upon by Sinn Fein activists. William was killed by the gunfire, which struck him in the chest. A resulting court case refused to treat the incident as murder, which prompted a riot by other members of his battalion, who went on the rampage in Fermoy, causing damage to around sixty shops. William was buried with full military honours at Blaenycoed Congregational Chapelyard, Cynwyl Elfed. Presently he is commemorated on the Brookwood (United Kingdom 1914-1918) Memorial, England. His brother Evan had been killed during the Great War.
Evan Jones, Private, 202746, Welsh Regiment. Evan was the son of William and Elizabeth Jones, of Cwmcain, Talog, Carmarthen. At the outbreak of war, Evan was residing in Llandeilo, and he enlisted at Llanelli into the 9th Battalion, Welsh Regiment. The Battalion formed at Cardiff on 9 September 1914, and was attached to 58 Brigade, 19th (Western) Division, crossing to France in July 1915. It saw its first action at the Battle of Loos. They then moved to the Somme in 1916, and attacked on the second day of the Offensive, capturing the village of La Boisselle. In June 1917 the Division fought at the Battle of Messines, and throughout the Passchendaele offensive. That winter they moved to positions north east of Bapaume to rebuild and rest, but on 21 March 1918, the area was hit by the desperate German Spring Offensive, which was aimed at winning the war before the full power of the American Army could be organised and brought into action. The 19th Division suffered terrible casualties, and were moved to positions near Messines, south of Ypres, but they were hit here again when the Germans switched their attack to Flanders, and Evan was Killed in Action around the time of the Battle of Bailleul, on 16 April 1918, aged 22. He is commemorated on the Tyne Cot Memorial, Belgium.
James Jenkins, MM, Sergeant Major, 871225, Canadian Railway Troops. (Meidrim). James was born at Talog on 26 July 1880, the son of Mrs. A. Jones, later of Wolfscastle Inn, Llanfyrnach. He was working in Canada as a shell maker before the war, but enlisted at Winnipeg in February 1916, joining the Canadian Railway Company, earning the Military Medal in France.
World War 2
Tudor Samuel Thomas, Gunner, 1796246, Royal Artillery. Tudor was born near St. Clears on 1 March 1910, the son of Samuel and Mary Thomas. He was raised in Aberdare following the early death of his father, as his mother parents had moved there to work, but returned to Carmarthenshire, and lived with his wife Maria at Felinfach, Talog. Tudor enlisted into the Royal Artillery following the outbreak of war and embarked for the Far East with 48 Light Anti-Aircraft Regiment, Royal Artillery from the Clyde on 6 December 1941, bound for Batavia, Java. The Japanese invaded Java on 28 February 1942 and following heavy fighting the Allied Commanders signed the surrender document on 12 March. Tudor was taken prisoner by the Japanese during this brief campaign in the Dutch East Indies and was later transported to Japan, where the prisoners were used as forced labour, as a result of lack of Japanese manpower. He died in a Prisoner of War Camp in Omine, Nagasaki, on 9 January 1943, aged 32. His remains were originally interred near his camp but in 1946 were re-interred in Yokohama War Cemetery.
Rebecca Riots
A brief summary by Mr Turner of the involvement of men from Talog
The Rebecca Riots were a series of protests between 1839 and 1843 by local farmers and workers in response to perceived unfair taxation. "Rebecca" was a man in woman's clothing, a "huge and frightening figure seated upon a large white horse". He was supported by "Rebeccaites" wielding arms such as shotguns, axes, sledgehammers, crowbars, scythes, and sticks.
Thomas Thomas, the shopkeeper in Talog, was fined at the heat of the protests. Mr Turner believes he got involved because he had to pay at the Water Street toll-gate whenever collecting goods from the warehouse.
Mr Turner referred to a book "And They Blessed Rebecca" which has several pages about the involvement of Talog in the Riots. What follows is a brief summary – refer to the book for more details!
Three men from Talog: Thomas Thomas; John Harries, of Talog Mill; and Samuel Brown a farmer from Brynmeini Farm; refused to pay the tolls and were fined £2 each with 8s 6d costs (about £2.42p), at a time when a farmworker earned £2.10s.0d (£2.50p) a year, a hefty penalty! However, if fines were paid, Rebecca threatened to burn their goods, and take their lives. The three men refused to pay, and four special constables were dispatched (on foot) to Talog to collect the arrears. They were turned back at Blaenycoed by a mob. Subsequently, a posse of 42 men was dispatched to Talog with handcarts to carry away their furniture. Arriving at 5.30am, the posse seized furniture from John Harries, then went to Talog Shop. However, Thomas Thomas had a receipt to show he had already paid his fine to avoid upsetting his pregnant wife. The posse was on its way to Samuel Brown when Thomas Thomas ran after them to say that if they cared for their own safety they should return the furniture to John Harries, and the fine would be paid. However, with a blast from a conch horn (which is now believed to be in Carmarthen Museum), Rebecca and "four hundred" supporters appeared, outnumbering the posse by ten to one. The Rebeccaites marched the posse to Trawsmawr, to the home of the Justice of the Peace, Captain Davies, who had signed the order. Rebecca ordered the constables to demolish the boundary walls of the house. Over the next few weeks, 2000 troops and 100 police were despatched from London to Carmarthen, but were met by Rebecca at Llanddarog. Further riots ensued, and the workhouse in Carmarthen was demolished. For further information about the ensuing unrest refer to the book. John Harries did not pay his fine and was sentenced to 12 months hard labour. Eight other protestors from Carmarthen pleaded guilty and were sentenced to deportation to Australia. They were taken to Llansteffan, then by ship to Bristol, then train to London, and kept in jail until the convict ship was full before sailing to Tasmania. They were in chains throughout – from their appearance in court until they reached the destination, after 5 months at sea.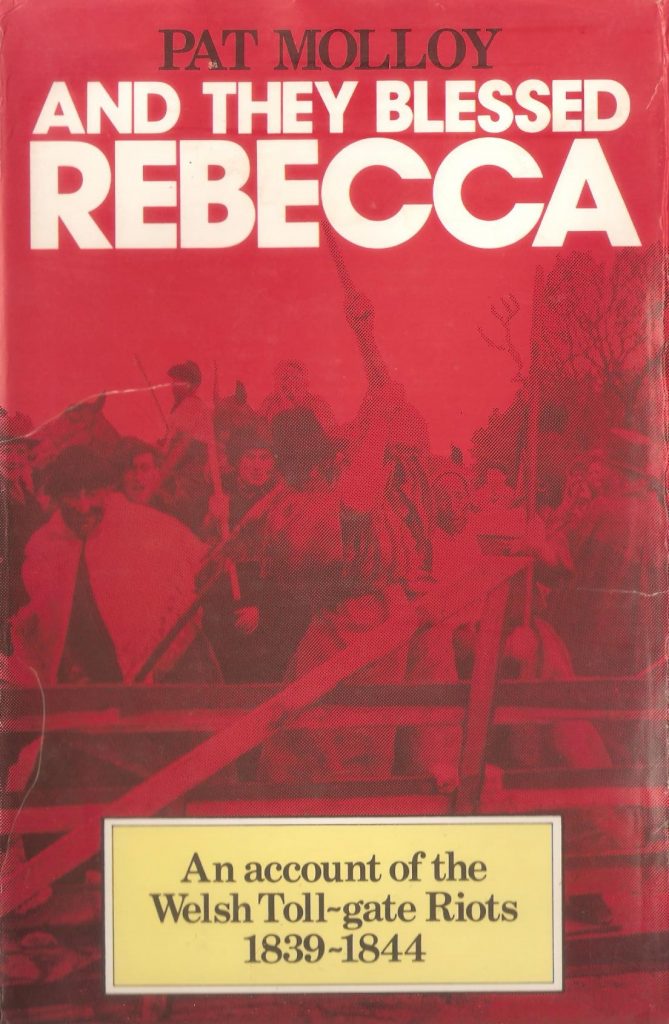 And They Blessed Rebecca, Flyleaf
"The people have discovered their immense power" declared one observer when, in 1843, the tranquillity of rural Wales was shattered by an explosion of popular violence whose total unexpectedness, rapid spread and sheer bravado conveyed to a thoroughly shaken establishment all the signs of insurrection. So startling was the eruption that The Times of London sent its most experienced correspondent down to Wales to report on the disturbances and to investigate the causes, while nearly two thousand troops marched into the troubled countryside under British army's most experienced suppressor of civil disorder, an officer of long and distinguished service who was destined to face the most frustrating job of his career. And out of it all, out of over two hundred and fifty attacks on what the people saw as the symbols of injustice and oppression, grew a legend of a leader call Rebecca. Here, for the first time in many years, is a new look at that legend.
ISBN 0 86383 031 5
Cover photograph / Ken Davies (Photos) Carmarthen, Cover design/Glyn Rees. Publishers/Gomer Press, Llandysul, Dyfed
Video about Penrhiwbeili
Here's an interesting video about Penrhiwbeili (between Talog and Penybont) as it was years ago