Jeni Molyneux, who lives in England, discovered she has many ancestors from Abernant, Trelech a'r Bettws, and Talog. It was the uncovering of Howell and Thomas family papers and letters, firstly at Pembrokeshire Records Office, then at the National Library of Wales, and then at Northamptonshire Records Office, that has made this primary research possible. The papers were all collected by the Rev. Thomas Thomas, himself an amateur antiquarian, as well as a clergyman. In 2019 she gave a talk in St Lucia's Church, Abernant, about her ancestor, John Howell. He was born in 1781 at Rhydygarregddu, Talog, and went to India as a surgeon. This transcript of her interesting talk also mentions other relatives from the area. It is reproduced here with kind permission from Jeni Molyneux who retains the copyright of this article.
John Howell 5th November 1781- 28th June 1819
Surgeon in the East India Company -7th Regiment Native Infantry
from Rhydd y Garreg Ddu, Talog, to Kissengunge, India.
On 30th June 2019 a memorial service was held at St Lucia's Church, Abernant to remember the life of this young Welsh boy from Talog, Carmarthenshire.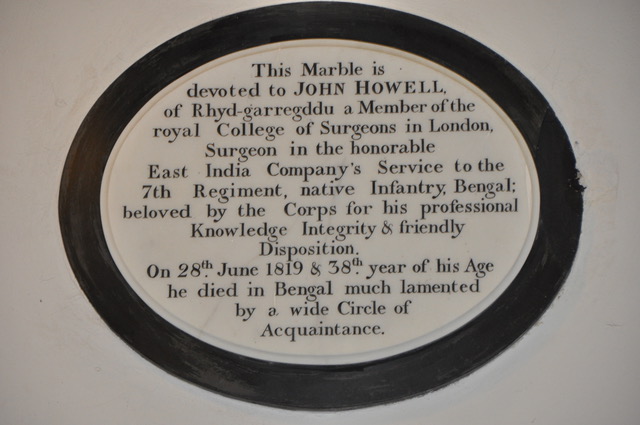 John Howell (his father Thomas Howell tells us in a letter written in 1785 to his brother in law) that John, his youngest son was born at 4pm on the afternoon of 5th November 1781 at the farm Rhydd y garreg ddu. John's eldest brother was Howell Howell, five years older, and born in 1776 in Abernant. Howell Howell farmed nearby at Cwmgest until his death in 1840. It was this older brother Howell Howell who worded, and arranged for the above memorial in St. Lucia's church to be erected in his brother's memory.

John, as the youngest brother with no expected inheritance, had to make another way in life. He seems to have been supported financially and most probably to have been educated by his 'Anwyl Ewythr' the Rev. Thomas Thomas who was a curate at Isham and Farndon in Leicestershire. At the turn of the century in 1800 John Howell is 19 years old and he is already a Member of the Royal College of Surgeons. Four years later, in 1804 and aged 23 he achieves his MD and becomes a surgeon in London.
The following year, the Rev. Thomas Thomas receives a letter dated 6th February 1805 from John Howell's parents Rosamond and Thomas Howell asking his advice about 'how to raise £150 for India equipment'. However, luck prevails and a few months later, in 1805, John Howell is appointed Assistant Surgeon for Bengal, India, in the East India Company. John Howell sailed to Calcutta on the ship Britannia as 3rd mate arriving in Bengal in December 1805 to take up his appointment.

On the 3rd of March 1806 John Howell entered the Indian Medical Service as an Assistant Surgeon in Benares, India. (Present day Varanasi). No more is heard of John Howell's life in India for the next 9 years…
Then in May 1814, aged 33 John Howell writes to his uncle the Rev. Thomas Thomas about 'having had a bad horse-riding accident and his consequent poor health that he is suffering'
1814 John Howell took a furlough to travel home because of certified sickness.
16th June 1814 John Howell, surgeon, left Calcutta on board the ship Matilda to return home to Portsmouth. There were two employees of the East India Company coming home from Calcutta: Mr John Howell, and Captain S. Lutwige of the 11th native infantry who was also on sick leave.
16th December 1814 In a letter John Howell on arrival from India to Portsmouth is writing to his uncle the Rev. Thomas Thomas at Farndon describing a very painful voyage at sea. John Howell is clearly not well.
8th June 1815 Rev. Thomas Thomas writes to his niece Phoebe's husband the Rev. Thomas Skeel at Newhouse, Pembrokeshire asking him to come and collect john Howell from "Mr Talbot's madhouse" in Bethnal Green.

"The fall from his horse in Asia probably is the primary cause of his derangement having affected his spine and brain… his removal to his native air is possibly a salutary means of recovery. There is more to be said about John Howell's affairs than I can explain on paper. Mr Talbot is to have £1.11.6 pence per week, besides some extra expenses each week. avour me with a reply as soon as possible. In much trouble of mind"

In that summer of 1815 John Howell is rescued from Bethnal Green, by his cousin's husband the Rev Thomas Skeel, and taken to Millbrook House, Carmarthen, to recover his sanity.
In 1817 John Howell returned to duty as Assistant Surgeon with the East India Company in Bengal with the 7th regiment of native infantry.
In 1818 John Howell was nominated a Surgeon by Sir H. Inglis. Bart.
John Howell died on 28th June 1819 aged 38 at Kissengunge, Maharashtra, India. The memorial was requested by him to be placed in St Lucia's Church, Abernant.
Source: Jeni Molyneux