The Rebecca Riots were a series of protests between 1839 and 1843 by local farmers and workers in response to perceived unfair taxation. "Rebecca" was a man in woman's clothing, a "huge and frightening figure seated upon a large white horse". He was supported by "Rebeccaites" wielding arms such as shotguns, axes, sledgehammers, crowbars, scythes, and sticks.
Thomas Thomas, the shopkeeper in Talog, was fined at the heat of the protests. Mr Turner believes he got involved because he had to pay at the Water Street toll-gate whenever collecting goods from the warehouse.
Mr Turner referred to a book "And They Blessed Rebecca" which has several pages about the involvement of Talog in the Riots. What follows is a brief summary – refer to the book for more details!

Three men from Talog: Thomas Thomas; John Harries, of Talog Mill; and Samuel Brown a farmer from Brynmeini Farm; refused to pay the tolls and were fined £2 each with 8s 6d costs (about £2.42p), at a time when a farmworker earned £2.10s.0d (£2.50p) a year, a hefty penalty! However, if fines were paid, Rebecca threatened to burn their goods, and take their lives. The three men refused to pay, and four special constables were dispatched (on foot) to Talog to collect the arrears. They were turned back at Blaenycoed by a mob. Subsequently, a posse of 42 men was dispatched to Talog with handcarts to carry away their furniture. Arriving at 5.30am, the posse seized furniture from John Harries, then went to Talog Shop. However, Thomas Thomas had a receipt to show he had already paid his fine to avoid upsetting his pregnant wife. The posse was on its way to Samuel Brown when Thomas Thomas ran after them to say that if they cared for their own safety they should return the furniture to John Harries, and the fine would be paid. However, with a blast from a conch horn (which is now believed to be in Carmarthen Museum), Rebecca and "four hundred" supporters appeared, outnumbering the posse by ten to one. The Rebeccaites marched the posse to Trawsmawr, to the home of the Justice of the Peace, Captain Davies, who had signed the order. Rebecca ordered the constables to demolish the boundary walls of the house. Over the next few weeks, 2000 troops and 100 police were despatched from London to Carmarthen, but were met by Rebecca at Llanddarog. Further riots ensued, and the workhouse in Carmarthen was demolished. For further information about the ensuing unrest refer to the book. John Harries did not pay his fine and was sentenced to 12 months hard labour. Eight other protestors from Carmarthen pleaded guilty and were sentenced to deportation to Australia. They were taken to Llansteffan, then by ship to Bristol, then train to London, and kept in jail until the convict ship was full before sailing to Tasmania. They were in chains throughout – from their appearance in court until they reached the destination, after 5 months at sea.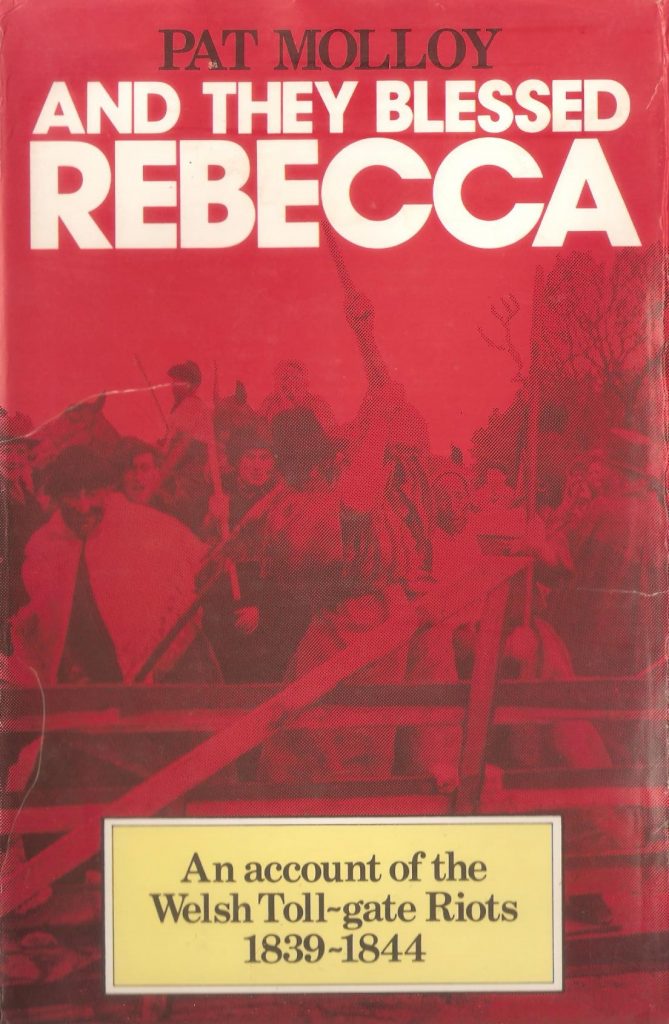 And They Blessed Rebecca, Flyleaf
"The people have discovered their immense power" declared one observer when, in 1843, the tranquillity of rural Wales was shattered by an explosion of popular violence whose total unexpectedness, rapid spread and sheer bravado conveyed to a thoroughly shaken establishment all the signs of insurrection. So startling was the eruption that The Times of London sent its most experienced correspondent down to Wales to report on the disturbances and to investigate the causes, while nearly two thousand troops marched into the troubled countryside under British army's most experienced suppressor of civil disorder, an officer of long and distinguished service who was destined to face the most frustrating job of his career. And out of it all, out of over two hundred and fifty attacks on what the people saw as the symbols of injustice and oppression, grew a legend of a leader call Rebecca. Here, for the first time in many years, is a new look at that legend.
ISBN 0 86383 031 5
Cover photograph / Ken Davies (Photos) Carmarthen, Cover design/Glyn Rees. Publishers/Gomer Press, Llandysul, Dyfed
Source: Eddie Turner, 'And They Blessed Rebecca' – Pat Malloy